---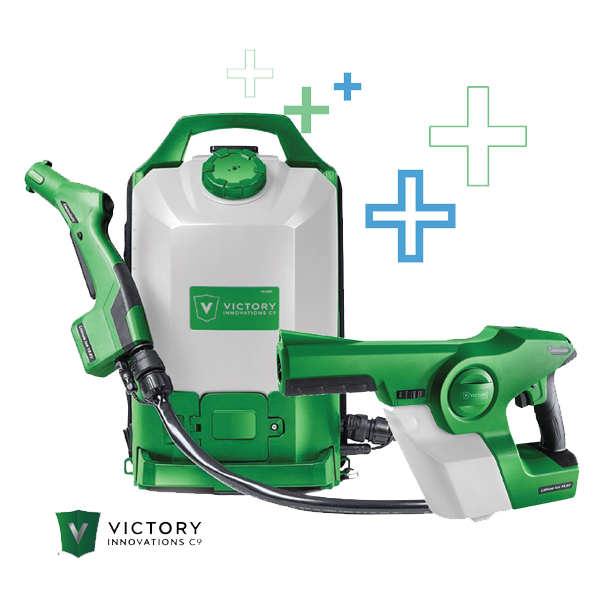 Electrostatic Disinfection
The Victory Innovations Cordless Electrostatic Sprayers new standard in infection control. Provides a blanket of disinfection for all your touchpoints. Hard-to-reach and easily missed surfaces are no longer a concern. Cutting edge electrostatic spraying technology delivers precise application of products with 3X the coverage of traditional sprayers or wipes.
Simplifying the Way You Clean!
We are proud to offer a broad range of quality products and cleaning solutions that are sure to exceed your expectations.
Chemicals
Our product offering includes a variety of chemical solutions suitable for use in different applications, as well as conventional options and ECOLOGO® certified products.
Equipment
We offer a high-quality equipment line to make everything shine, from vacuums, floor polishers, and auto-scrubbers to carpet extractors! All of our equipment is durable, dependable, efficient, and very easy to use.
---
Country-Wide Distributors
We work with companies all across North America to make sure you get access to the products you're looking for.
Featured Products
Take a look at some of our top picks!
Stay Up To Date!
Sign up for our newsletter to hear about exciting Dustbane news including product improvements and launches.
---
What People Are Saying
We love what we do and are happy when others feel the same way. Take a look at what some of our customers think about Dustbane.
"I like that the product is ready to use (no diluting). It is fantastic at removing smoke odours, has a nice fragrance and leaves a nice clean smell on the contents. Also, great it is non-toxic." - ClearOut
— Mike
"The results speak for themselves. Trials, training and seminars ensured and showed that the products not only work but are cost-effective as well."
— Stephen
"Easy to use with a clean scent. Stays moist and does not dry out quickly even while it is stored in its container." - Triple Action Multi Wipes
— Mike